Tokyo, Japan - Apr 7, 2013 (PRN): Power devices are strategic products, at the forefront of the discrete devices business. In power electronics, Toshiba's focus is on the development of MOSFETs and IGBTs, indispensable devices for securing an efficient, stable electricity supply—a precondition for flourishing smart communities that utilize big data in real time to realize high-performance infrastructure responsive to changing needs.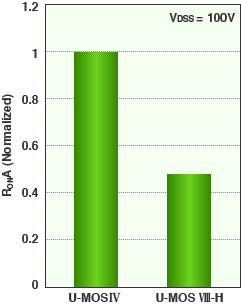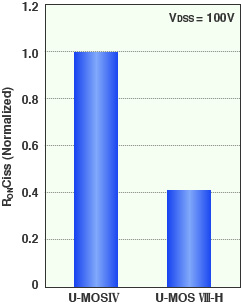 Efficient use of energy and storage capacity is a pressing issue in industrial applications, including power supply for the base stations needed to handle growing numbers of smartphone and tablet PCs; power supply for servers in data centers and intelligent automobiles; and wind farms and other renewables. Toshiba's MOSFETs and IGBTs can play a vital role in any effective solution meeting these needs.
The U-MOS VIII-H Series, our latest MOSFET fabricated using eighth generation trench process, offers an industry-leading performance, achieving a 50% reduction in RONA and a 40% reduction in RONCiss compared with the previous products, such as AC-DC converters and DC-DC converters. Our plans call for the launch of a wide range of products with VDSS from 30V to 250V by September 2013 to meet needs in industrial applications, including highly efficient power supplies for servers and base stations.
In the first half of fiscal 2013, Toshiba will also enrich the choice of surface mount devices with minimal package resistance by offering a line-up of products with VDSS from 30V to 250V. The products will realize high-efficiency power electronics in industrial applications, such as AC-DC converters and DC-DC converters for the power supply of servers, base stations and solar micro-inverters.
Commenting on the new products, Mr. Satoshi Taji, Assistant to General Manager of Discrete Semiconductor Division, Semiconductor & Storage Products Company, said, "Our new power devices are the fruits of our global business experience and our determination to support our customers by securing leadership in function, quality and cost, and supply. Our commitment to our customers is total, and we have already started to develop next generation products with the goal of delivering even better solutions."
More information about Toshiba power devices can be found at:
• Interviews with Engineers Involved in Development of DTMOSIV and U-MOS VIII-H
http://www.semicon.toshiba.co.jp/eng/product/transistor/selection/mos/interview.html
• Highlights of the Latest Low Voltage MOSFETs
http://www.semicon.toshiba.co.jp/eng/product/transistor/selection/mos/lvmos.html
About Toshiba
Toshiba is a world-leading diversified manufacturer, solutions provider and marketer of advanced electronic and electrical products and systems. Toshiba Group brings innovation and imagination to a wide range of businesses: digital products, including LCD TVs, notebook PCs, retail solutions and MFPs; electronic devices, including semiconductors, storage products and materials; industrial and social infrastructure systems, including power generation systems, smart community solutions, medical systems and escalators & elevators; and home appliances.
Toshiba was founded in 1875, and today operates a global network of more than 550 consolidated companies, with 202,000 employees worldwide and annual sales surpassing 6.1 trillion yen (US$74 billion). Visit Toshiba's web site at www.toshiba.co.jp/index.htm
U-MOSⅧ-H is a high-efficiency MOSFET series specifically designed for use in the secondary side of AC-DC power supplies for notebook PC adapters, game consoles, servers, desktop PCs, flat-panel displays, etc., as well as DC-DC power supplies for communication equipment, servers and data centers. Fabricated with the latest Gen-8 trench MOS process, U-MOSⅧ-H will help improve the efficiency of power supplies.
on Mon, 04/08/2013 - 08:43

MonMan