Netfloor CamassCrete Series compliments the ECO series by offering a traditional concrete-core panel combined with height-adjustable pedestal legs.
The Netfloor CamassCrete product offers a unique method of managing cables (electrical, data, voice) in any environment where overhead cabling is impractical.
Benefits of the CamassCrete product versus others: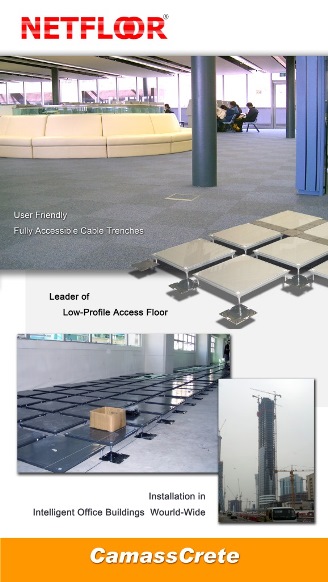 Lighter than standard cementitious raised floor panels
Ease of installation and material handling
Lower environmental impact than most access floors
Netfloor CamassCrete is a highly-modular cable management system:
No damaging adhesives used on your subfloor
Product can be re-deployed
Cable routing is neat, orderly and simple
Major cabling re-working is possible with little downtime or interference with workers
Cable floor boxes are modular and can be located anywhere
Installation Packages
You have options when it comes to your flooring system:
Full design and installation services by MonMan
Design by MonMan, installation self-performed with supervision
MonMan can relocate your cable management floor when you move
Contact MonMan today to learn more about the Netfloor CamassCrete Cable Management Floor!