Cable Management Floors Make Your Life Easier
Learn More at Netfloor USA
Low Profile Cable Management Flooring Advantages:
Similar cost to overhead cable distribution
Easier to install cables than overhead distribution
Completely customizable, expandable and scalable
No concrete trenching, cutting or coring. Just pour the slab!
Completely recycled and recyclable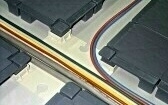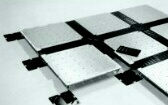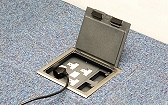 Netfloor cable management raised floor is great for:
Office space
Telecomm
911/EMS Centers
Data Centers
Retail
Display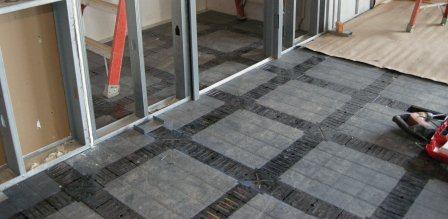 Even walls can be built on top of our Netfloor low profile system.
What is Netfloor Cable Management Flooring?
It's a unique system of raised access flooring that provides integrated cable raceways for electrical, data and voice cables.
It takes the place of overhead cable trays, and eliminates the need for cutting trenches in concrete.
It is a flexible and rapidly-deployable cable management solution for all industries.
Netfloor Grid Cable Trench
Cable Trenches - integrally designed into the floor system
Generous 90 mm wide cable trenches for electrical, voice and data cables
Wide cable trays in a low height floor
Recycled, high strength polypropylene or concrete panels
No adhesives necessary
Can be re-deployed
May qualify for LEED points

Cable Trenches are an integral part of the Netfloor low profile floor system. With 1 cable raceway per 1 square foot of floor, we offer the most accessible and flexible system available. It is easy to build out your site with the built in cable trenches, and it's easy to add and move cable later on.
Integrated Floor Boxes and Grommets make cable connections fast, organized and pleasing to the eye.
Various Floor Heights as low as 1.5" mean a flexible design that uses very little floor to ceiling height.
How much does this type of floor cost?
It's less costly than a standard raised floor, and is typically less costly than traditional flooring and cable/cord management methods like in-wall wiring, power strips, overhead cabling and in-furniture wiring.
Read More on Low Profile Cable Management Access Flooring
Netfloor ECO Series (Environmentally-friendly, recycled content)
Netfloor CamassCrete (Traditional Cementitious Panels)
What type of floor panels should you use?
Netfloor Spare and Replacement Parts
Contact MonMan today for a free consultation, site evaluation and proposal for your cable management needs!