What type of raised floor panel should you use?
Ten or twenty years ago, this question probably wouldn't have come up. Besides a few off-brand outliers, all raised floor panels were of similar construction: a concrete (cementitious) core sandwiched between layers of steel. Before that, and solid steel panels were the norm.
The Steel gives the panels most of their strength, and the concrete core prevents deformation of the steel casing.
Contrary to popular belief, the concrete core offers little in the way of additional strength. Interestingly, once the concrete is loaded a few times, cracks form inside the panel, reducing any strength the concrete provided. This disruption of the crystalline structure of the concrete can occur even after a single, catastrophic event like a load being dropped on the panel or a heavy load rolling across the surface.
Luckily, there are access floor panels built with alternate construction that are highly suitable for different applications.
Options in Raised Floor Panels
Today there are many options when it comes to the material your floor panel is made out of. Here are some of your choices:
Steel with concrete core
Wood core
Plastic (low profile floors)
Steel (low profile floors)
Marble, Terrazzo, etc.
Gone are the days of industrial, drab grey or speckled floor tiles. Today's facilities can be spruced up with raised floors that offer a professional, modern look with an array of colors and textures.
It is important to note that no single raised floor design or panel construction can handle every application.
You must decide what your mission criteria are when selecting a type of raised floor. Do you need a 4 foot floor with integrated cable trays and piping mounts? Do you need a 2 inch floor to run IT cables? The type of raised floor you use depends on its intended use.
The standard steel & concrete raised floor panel has been in use for almost half a century, and for good reason: it is strong and robust.
There are other options, however. Wood core panels are proven to be just as strong as concrete filled panels, while being lighter. Our Bergvik line offers several wood core panels, from industrial grey to warm wood finishes like, alder, oak and more.
Plastic Panels Have a Place
Recycled polypropylene access floor panels are making waves in the raised floor industry. Many clients find that a low profile access floor meets their cable management needs very well.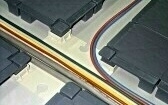 In applications where cable management is a concern, and underfloor air distribution isn't, a low profile floor with polypropylene panels works extremely well. The floor panels rest directly on the subfloor (typically concrete or wood), and their direct contact with the subfloor means there is no significant deflection of the panel, even under heavy loads.
The panels are lightweight, easy to handle and easy to redeploy.
Metal Floor Panels
Metal floor panels are a viable option for some floors. A stringerless system puts heavy demands on the panel, which must resist enormous bending and flexing forces. Even with stringers, the force placed on the panels is surprisingly high. We see metal panels being used in low profile floors with good results.
In such a situation, there is less concern for panel flexing. However, the higher cost of a low profile metal panel floor compared to environmentally-friendly recycled polypropylene might have a floor like the Netfloor ECO winning over similar metal designs.
Fire Ratings Your Floor Panels Should Have
Regardless of what material your access floor panels are made from, they should meet applicable fire codes:
NFPA 253
ASTM E-648
UL 94 V-2
BS 476 Part 7
The type of raised floor system (and type of panels) best suited for your facility depend on several factors, and choosing the appropriate system based on your needs will bring the most value to your organization. Give the experts at MonMan a call or email, and let's discuss your options!
on Wed, 11/07/2012 - 09:43

MonMan